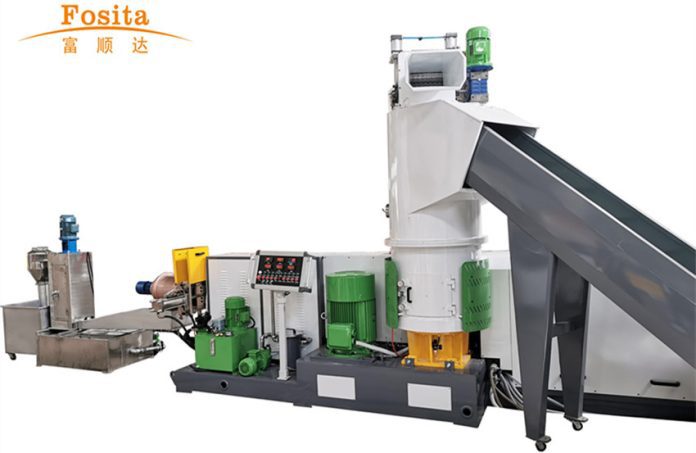 Plastic pelletizing machine turn scrap plastic into a clean, usable raw material that manufacturing plants can use. This creates a closed loop that benefits both the environment and your bottom line!
PE PP plastic recycling machine combines shredding, extruding and pelletizing into one machine. Force feeder enables stable high capacity material feeding.
1. Extruder
The extruder of a plastic pelletizing machine pushes heated, spaghetti-like strands through a die to produce pellets. It's essential for converting resin into a consistent, solid form. It also provides the structure, texture, color, and flavor of a finished product.
The main components of an extruder include the screw, barrel, and hopper. The screw is a long, cylindrical element with a changing diameter and helical flights that help convey, heat, and mix the raw material. It's available in single and twin screw configurations that rotate either in counter or corotating directions. There are also barrier screws that separate liquid and solid polymer in different zones within the screw.
The hopper contains the raw resin and any additives necessary for the finished product. The resin is then gravity fed down into the barrel where it enters the screw. Often, there's a vacuum feed hopper to prevent air entrapment in the hopper that would negatively affect the quality of the finished product.
2. Pelletizer
A pelletizer turns the strands produced by the extruder into pellets. A basic strand pelletizer has speed-controlled pull rolls that cut the plastic strands into individual pellets. This system is great for high-production processes with relatively few product changes.
A classifier separates the resulting pellets according to size. Oversized pellets are collected on top, first-quality product falls through the screens in between, and fines or undersized pellets drop down into the classifier's bottom. The classifier may work on the principle of vibration or oscillation to move the pellets across its incline plane.
Refuse-derived paper and plastic densified fuel (RPF) is composed of combustible waste, such as used paper and plastics, along with thermoplastics as a binding component. Typical RPFs contain about 15 wt% thermoplastics. During the briquetting and pelletizing process, the thermoplastics solidify the other material components into a compact mass. This compact mass is then shaped into spherical pellets or briquettes. The spherical shape provides improved handling and storage of the pellets, as well as better combustion and fuel utilization.
3. Dryer
The dryer is an essential down stream unit that can achieve a very dry material (granulate/film flake) moisture content. This is especially important for compounders working with low bulk density mineral filler and other non-hygroscopic materials that require a very dry pellet prior to packaging.
The rotary drum dryer is an alternative to the disc pelletizer and works on the same principle as the extrusion process itself. The tumbling action of the drum allows the material to pick up more fines and coalesce into larger pellets. The pellets are then dried before they exit the drum into a silo.
The plastic recycling granulator machine is designed to work with washed recycled plastic PE polyethylene and PP polypropylene film flakes and is able to reduce the raw material cost by directly processing the washed recycled plastic film flakes into high quality plastic pellets/granulates to make new plastic bags, drainage pipes etc. Suitable for both high capacity and small scale production application.
4. Storage
If the pelletizing process is done successfully, the resulting pellets will need to be stored for use later. Plastic pellet storage bins are available to hold the pellets while they are not being used, making it easy for manufacturers to access them as needed.
The one-step recycling pelletizing machine features a built-in cutter-compactor, which recycles PE and PP plastic waste that is both printed and unprinted. This eliminates the need for a separate crusher, which saves space and energy while reducing labor costs.
Plastic scrap recycling companies can greatly reduce the amount of waste that is produced by plastic manufacturing plants, saving the company money as well as improving the world in which we live. Many companies also offer toll pelletizing, which allows manufacturers to take advantage of recycled materials at a fraction of the cost. They can also provide custom colors and additives to the finished pellets. These benefits make it an excellent choice for those looking to reduce their carbon footprint and increase their profitability.