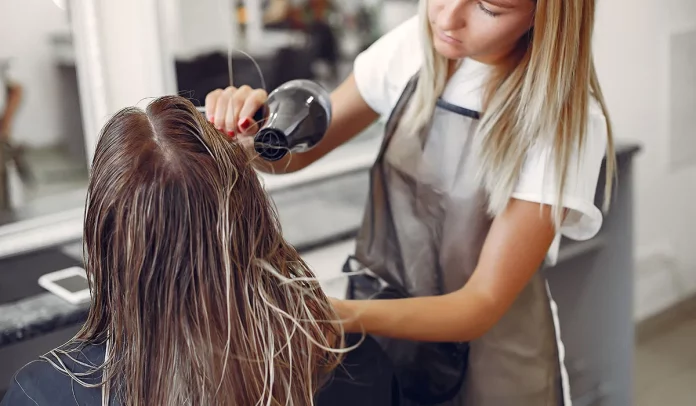 Finding a great hairdresser can be tricky enough, but when you're armed with curls it's even harder. Neel Loves Curls can transform unruly kinks and coils into envy-inducing ringlets, so much that her bookings are hotly contested.
This Prahran salon specialises in dry cutting each curl individually and deep conditioning and education treatments. It follows the Deva Cut method.
Why you should choose a curly hair specialist
A curly hair specialist is a hair stylist who has advanced knowledge of different curl patterns and textures. They use hair cutting and styling techniques that are tailored to these needs and bring out the natural beauty of your curls.
Most hairdressers are not trained in how to cut curly hair during beauty school, and may even be taught that curls need to be straightened to get a good haircut. Finding a curly hair specialist who has specialised training will ensure you walk out of the salon with healthy, gorgeous curls!
Mousey Brown specialises in dry haircutting, a technique that is great for curls and wavy or textured hair. Her ethos is 'minimal fuss, maximum impact' and she encourages clients to learn how to style their own curls at home with manageable routines that follow the Curly Girl Method. You'll leave with bouncy, beautiful curls that ooze sass.
What to look for in a curly hair specialist
A lot goes into finding the right hair stylist for your curly hair. Not only do you need to find a stylist that you trust to cut your curls, but the right stylist can help you grow and maintain your hair with the right products for your unique curl pattern, salon schedule, porosity, etc.
If you are searching for a stylist, try to find one who has received training in cutting curly hair. Many cosmetology schools don't offer curly haircut training, so it's important to find a stylist who has the knowledge of curls outside of beauty school.
If you find a stylist that offers the Deva Cut, which is done dry and one curl at a time, this is an excellent sign they have curly hair experience. The Deva Cut is designed to frame your face and highlight your natural curl pattern. It also helps to minimize frizz and tangles that can be caused by over-processing and chemical treatments.
What to avoid in a curly hair specialist
In a general hair salon, when a client with curls walks in, it can sometimes make the stylist nervous. They will often ask how they usually wear their hair, and if they prefer it straight or curly, which is fine if the answer is curly, but they should then know that it's best to cut the hair when it's dry in its natural curl state.
Thinning, block cutting and twist cuts are all techniques that don't work well with curls and can cause more problems down the line. The curls may start to wire out, or they might not grow back in the same place.
Ginger and Curls salon in Melbourne are curl specialists who cater to all textured hair types, with their specialised cut, deep conditioning treatments and education, and of course, colour too. Their home based salon is warm, friendly and committed to creating gorgeous curly hair in a relaxed environment. They follow the Curly Girl Method and stock curly hair friendly Everescents products.
Embrace your curly hair
If you have curly hair, then finding a stylist who gets you is essential to loving your curls and getting a gorgeous haircut that shows off your gorgeous texture. There are plenty of specialist salons in Melbourne that can get your curls looking beautiful, but you need to find one that matches your needs.
Look for a hairdresser who doesn't just claim to be a curly hair specialist but backs up their work with specialised training and education. They should also be able to give you advice on how to style your hair at home to maximise your curls' beauty and minimise frizz.
Mousey Brown are leading the way in a new wave of curly cutting techniques and their 'minimum fuss, maximum impact hair' ethos is perfect for those with textured locks. They use a dry cut technique that cuts each curl individually to create a beautiful shape. They also offer a range of customised hydrating treatments to keep your curls happy and healthy.curly hair salon Melbourne