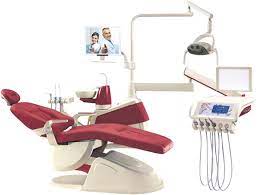 A dental chair is a device used to support the patient during examination and treatment. Dental chairs are exposed to blood, mucus and saliva contaminated with viruses, bacteria and other microorganisms.
When choosing your new dental chair ask about its controls. Is it easy to operate without looking at the panel?
Comfort
A comfortable chair makes the patient feel relaxed during treatment and will improve their confidence in you as a dentist. Ensure the seat cushion is soft and that you can easily adjust the backrest and armrests.
The most important feature of a dental chair is to provide support for the patient's neck and head. This is because patients may be nervous about a procedure, and they will want to keep their heads comfortably supported. Having a chair with a dual-axis headrest that cradles the occipital bone will help them relax, while the dentist can access their oral cavity.
Another important factor in a comfortable chair is the angle of the seat. Research has shown that a chair with a curved lumbar support increases patient comfort and reduces the risk of musculoskeletal disorders (MSDs) including lower back pain. It also helps the dentist avoid slouching, which is a cause of back problems for many dental professionals.
Ergonomics
The ergonomics of a dental chair is one of the most important features that help you perform an efficient procedure. The chair should have a system that removes saliva easily so it doesn't keep building up in your mouth during treatment and also helps with the clarity of your vision.
A dentist stool that adjusts at the touch of a button helps you operate in a neutral seated posture, which reduces lower back strain and offers lumbar support. The sloped front of the seat angle supports your thighs and works in conjunction with the curved backrest for a custom fit.
The multifunctional foot control enables hands-free operation of the EasyTouch display and motorised sliding track. The ergonomically arranged icons are self-explanatory and dedicated keys are assigned to the most frequently used functions, making it easier to navigate at a glance. The sterilisation function integrated into the device sanitises the chair automatically after each use, helping you to minimise cross-contamination and guarantee a safe environment for your patients.
Safety
During treatment, the dental chair unit comes into direct contact with blood, saliva, and other bodily fluids. This can lead to the transfer of microorganisms like herpes viruses, HIV, staphylococci, hepatitis B and C, and others. The chair surfaces should be disinfected frequently to reduce these risks.
A modern dental chair is crafted from metal and plastic, often infused with antibacterial properties to minimize infection risk. Some even have a thin seat back that allows dentists to work comfortably in any position without hunching over patients.
Some dental chairs have a stop feature on the lift mechanism to prevent it from crushing objects that might fall under it. The chair base should also be sturdy and solid, with a heavy metal frame that won't leave rust or corrosion marks on the floor. The upholstery should be easy to clean with standard dental office cleaners.
Design
When choosing a dental chair, the design should be taken into consideration. It should be made of durable materials that can withstand everyday use. A reputable manufacturer should also provide a detailed user manual and maintenance guide. A chair's stability is also important. A metal base is more likely to resist vibrations and movement.
Another factor to consider when choosing a dental chair is its maintenance convenience. Look for one with removable upholstery that can be easily washed and disinfected. Also, the upholstery should be designed with patient comfort in mind.
The A-Dec 500 is a good example of a modern dental chair with an ergonomically designed seat and backrest. It also has a virtual pivot that adapts to the patient's movements in real time. This prevents the dentist from having to readjust the chair every time they move the patient. It also has a new unobstructed armrest design that provides easy access for patients.f