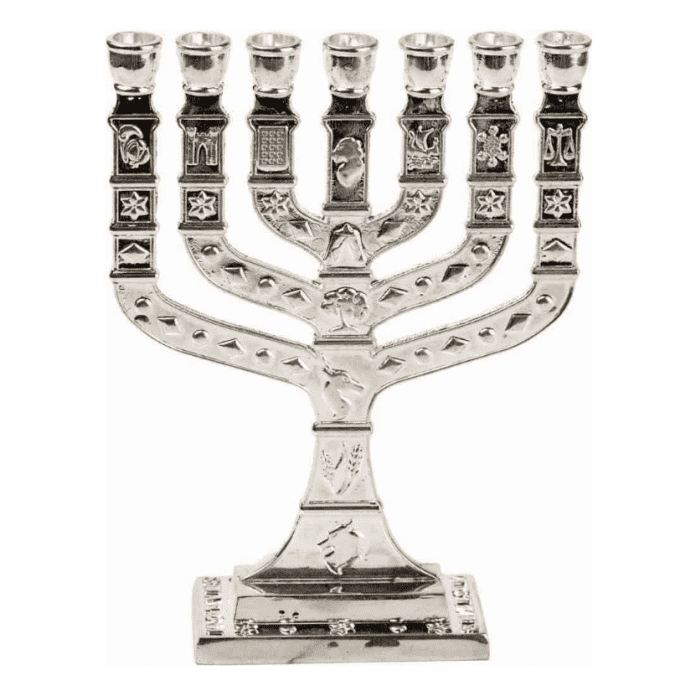 In the virtual world that many of us live in, it is often refreshing to grasp and use physical objects that convey meaning, symbolism and beauty. No item exemplifies this concept better than silver Judaica, which can be found in most Jewish homes around the globe. From beautiful Silver Shabbat candlesticks to Kiddush cups and from elegant Silver Hanukkiot (Hanukkah menorahs) to decorative silver Mezuzah cases, silver Judaica adds inspiration, style and beauty to the home while also serving an important religious function.
Unlike other jewelry or decorative items, most of the silver Judaica produced by the world's leading Judaica companies is designed for primarily religious use. It is also often adorned with traditional designs and symbols that are a part of the Jewish culture and history. Silver Judaica is available in many different styles, from simple to very elaborate. The ideal store will carry a wide variety of these items to ensure that customers are able to find the perfect piece for themselves or as a special gift.
Some of the most beautiful and meaningful pieces of silver Judaica are crafted by Israel's leading silversmiths. These artisans have a long tradition of producing beautiful, high quality Judaica that is both functional and elegant. Often, these works of art are passed down from generation to generation in a family and become treasured heirlooms. In addition to the beauty of these objects, they are a true testament to the richness of the Jewish culture.
Another wonderful thing about silver judaica is that it makes the perfect present for any Jewish occasion. In fact, it is one of the most common presents for Bar Mitzvahs, Jewish weddings, Brit Milahs and even for new baby arrivals. These pieces can be purchased in most Jewish specialty shops and are a great way to commemorate the special day or event.
The most common and well-known silver Judaica is often found in the form of candles, which are a central aspect of Jewish ceremonies. There are many sterling silver candlesticks in a range of sizes and patterns available at the world's top Judaica stores, both brick-and-mortar and online. Candles are usually accompanied by matching Kiddush cups and spice boxes, which are also often made of sterling silver. These sets are not only functional, but they also make for wonderful and unique gifts that can be enjoyed by non-Jews as well.
In addition to offering a wide range of the most desirable and best-quality silver Judaica, most of the leading online and offline Jewish stores will also offer a broad selection of items designed specifically for children. These items are frequently used as gifts for children's Bar Mitzvahs and other special occasions, and they can help to instill a love of the Jewish faith in them from an early age. These pieces are usually very well-made and feature cute and colorful decorations that children will love. They are also generally reasonably priced, making them an excellent choice for gifts that won't break the bank.