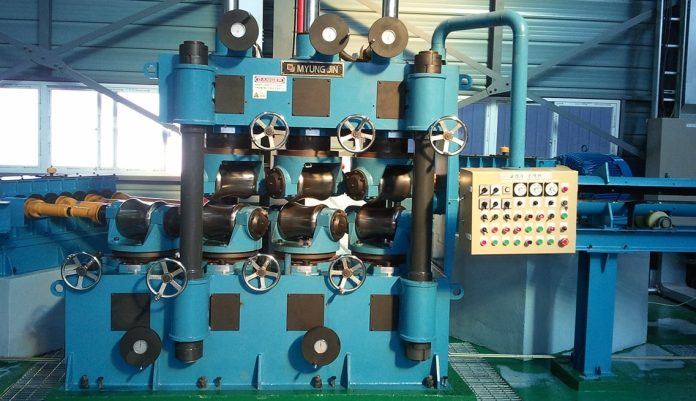 A Straightening machine is a device used to correct the waviness of metal sheets. It uses a pair of work rolls to straighten the metal. This can be done manually or by computer.
Effective results are contingent upon the proper and consistent set-up of a straightener. This includes determining the combination of pinch roll pressures and work roller depth settings.
High Efficiency
As the demand for high-quality metal products grows, manufacturers need to streamline their production processes and deliver consistent results. A straightening machine is an essential tool for achieving this goal. Its dual-head design enables it to process more coils in less time and ensure that all ends of the metal are of equal quality.
The power required to operate a straightening machine depends on several factors, including the maximum material thickness and width. The work rollers' diameter and centre distance spacing also have a major impact on the power needed to straighten the materials.
The height adjustment of the upper work rollers in a straightener is typically accomplished using precision-guided slide block assemblies. Other methods of raising and lowering the work rollers include fine threaded screw and nut combinations, worm gear and screw mechanisms and precision screw jacks. In addition, helical gearing is often used to achieve power-optimised operation. This type of gearing reduces noise and vibration levels while increasing efficiency.
Easy to Operate
Straightening machines are heavy metal forming machinery used to straighten different types of metal products like wires, bars, sheet, beams, angles, h-beams, metal scraps, metal rods, studs, strips and tubes. These machines are a critical part of the metal processing industries worldwide.
Most straightening machines today have between five and 11 work rollers with different diameters and centre distance spacing. The upper work rollers are contained within precision guiding slide block assemblies with a variety of methods to raise and lower them.
Another type of machine, known as a precision leveller has a much smaller number of closely spaced work rollers. The rollers of a precision leveller are flexed and can be adjusted individually to remove camber, wavy edges, centre buckles and trapped stresses from the material. They require more drive power than straighteners as they do a far greater amount of work on the material. Generally, these machines have two drive motors. They also have a method for load sharing between the two sets of rolls.
High Durability
With a broad range of potential variations in metal types, thickness, and widths, there is no such thing as a one-size-fits-all straightener. In the equipment specification process, careful consideration needs to be taken into account for these variables. This is especially important when working with high-strength materials like AHSS.
The force required to bend AHSS requires greater support for the machine and its components, including work rollers and support journal diameters. This also means that the straightening machine's structure must be more rigid to withstand these forces.
Achieving effective results from a straightening machine requires the right combinations of pinch roll pressures, drag brake strength, and work roll depth settings. These factors are established by adjusting the machine using a combination of air pressure regulators and screw downs with gauges. These adjustments can affect the amount of force applied to the material and the straightening rate. As a result, it's important to work with an experienced engineer to ensure the proper straightening machine is specified and built for each application.
Low Maintenance
Whether you have naturally curly hair or prefer a straight style for everyday wear, a good flat iron and styling product can do wonders. A flat iron can tame frizz and create sleek, straight locks that will last for days. If you're looking for a product that can help prevent damage from heat, look no further than a straightening spray or serum.
These products are designed to work on all types of hair and have a wide range of benefits, from managing flyaways to nourishing damaged hair. They're also a safer alternative to chemical relaxers, which permanently alter the structure of your hair.
Plate straightening machines require high precision and reliability. Tribo-optimised plastic plain bearings from igus are an excellent choice for these applications, as they're maintenance-free and resistant to dirt even in harsh environments. They can significantly improve your machine's efficiency and longevity and reduce costs. This is because they allow for fast and easy vertical adjustment of the upper and lower straightening rolls, as well as auxiliary (side) rolls.